Walton Foods
Walton Foods, probably the largest manufacturer of bulk-packaged foods designed for long-term storage, has been operating in Idaho as Walton Feed for over 50 years and has maintained an "A+" rating with the Better Business Bureau since 1991. Now, Walton Feed sells its survival foods and supplies under the subsidiary Rainy Day Foods.


Primarily concerned with selling dehydrated foods for survival purposes, Walton's offers a comprehensive catalog containing products you can purchase in varying weights and sizes. The majority of foods are available in #10 and #2.5 cans, with the option to buy much larger sizes.
Categories of Walton Foods
Cereals and grains--nutty granola, popcorn, cornmeal and triticale are just a few of the different cereals and grains you can purchase in cans or in 40 and 50 pound bags

Pasta--spaghetti, elbow macaroni and noodles can be bought in #10 cans and 20-pound boxes

Eggs--cans and boxes of dehydrated egg whites, whole eggs and an egg mix consisting of eggs, milk and shortening can be stored for up to 15 years

Dairy products--choose from powdered shortening, sour cream or margarine as well as non-fat milk and butter powder

Legumes and beans--Walton Foods has 21 different types of legumes and beans such as split yellow peas, pinto beans, red lentils and garbanzo beans

Baking needs--all purpose flour, imitation blueberry nuggets, whole wheat flour and beef bouillon

Desserts--banana pudding mix, baker's complete white cake mix, instant tapioca pearls and strawberry gelatin

Powdered drinks--apple, orange and peach drink and hot cocoa mix

Dehydrated imitation meats--chicken-flavored strips, imitation beef strips and bacon flavored bits

Vegetables--Walton Foods provides 23 varieties of dehydrated vegetables including mushrooms, spinach flakes, cabbage and potato flakes

Water Purifying Accessories
The Aquamira water bottle and filter holds 22 ounces of water and can filter over 550 refills with one filter. Another type of water purifier is an emergency water filter made by Aquamira that can be submerged into a water source in order to filter the water through an expandable straw. This water filter is certified to remove nearly 99 percent of the parasites Giardia and cryptosporidium.

A five-gallon water storage drum is also available that is constructed of high-density polyethylene approved by the FDA and easily stackable to conserve space.

Freeze-dried Mountain House Food Paks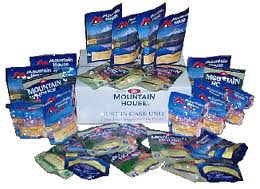 Preppers will also find a wide selection of Mountain House Food Paks for sale at Walton Foods containing single servings of various freeze-dried foods such as blueberry cheesecake, spaghetti with meat sauce and chicken and rice. Freeze drying involves freezing a food, then putting it into a vacuum so that the food can vaporize without experiencing the liquid stage (sublimation). When you want to eat something that has been freeze-dried, simply pour hot water over it or cook it in hot water for several minutes.

Garden Seeds
If you want to start your own garden, Walton's has garden seeds available in single #10 cans or a case of #10 cans. Included in this seed collection are Blue Lake Bush Beans, Sweet peppers, Champion radishes, Lincoln peas and Rutgers tomatoes. To begin growing herbs, purchase the Herb Seed Pak that comes in #10 cans and provides seeds for chives, fennel, parsley, sage, oregano, and lemon herb plants.

Emergency Supplies
Just as important as stocking enough food intended for long-term storage is having plenty of emergency supplies to assist you and your family through a lengthy disaster. At Walton's Foods, you will find ready-to-eat military style meals (MREs), multivitamins, pocket-sized insulated sleeping bags, sanitation/influenza kits, and survival candles that burn for up to 36 hours.
The company also makes emergency kits for one or two people that provide essential survival items such as mini camp stove, flashlight/batteries, MRE meals, water purifying tablets, and a first aid kit.
Return from Walton Foods to Survival Food
---
---

Print This Page