Test Your Prep IQ...........
Ok so you're a prepper, a survivalist par-excellence and you have your bug out bags stocked, vehicle ready in the drive and your medical kits bulging at the seams, but are you truly prepared for disaster? It's certainly hard to think of everything, and have a well-rounded prep plan.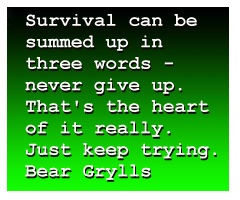 So we offer you our FREE preparedness test, which you can do in less than a few minutes and then you'll know if there are any gaping holes in that plan of yours. All for nada, zip…… zilch.
You can even use this prep test as a checklist, should disaster strike.
The test has been kept as short and concise as possible as we know you're busy prepping – so don't worry this isn't some huge tome of War and Peace.
Just fill in the form and we will email you the link directly to your inbox (Please be sure to enter the correct email or this link simply won't arrive).  Also check your spam folder if the email doesn't show up in your inbox within an hour or so.
We hope this simple free downloadable test gets you focused on being ready for any disaster or doomsday scenario you're likely to encounter. Complete the simple form below and enjoy!
Best wishes
Apocalypse-survival.com


Print This Page