Vegetable Gardens are a Practical Means of Food Survival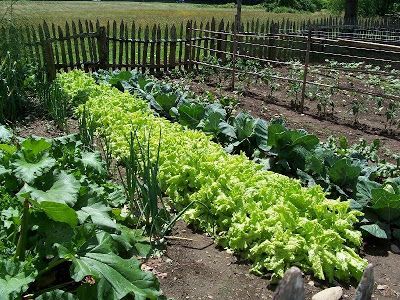 While flower gardens are pretty, vegetable gardens are not only practical, but could be instrumental in the survival of you and your family. When the time comes that food is no longer arriving at your local grocery store, being able to grow your own food could be a practical skill that will save your life, and it's a skill you can start learning today.
Types of Vegetable Gardens
Contrary to popular belief, you do not have to own a large piece of land in the country, or dig up your backyard to grow a garden. More and more people around the world are discovering the joys of vegetable gardening in small spaces or without the need for expensive tillers and plowing. These vegetable gardens come in all shapes and sizes, and include:

Container Gardening – Go to Pinterest and do a search for "container gardens". You will be stunned at the over 1000 boards about container gardening. Of course, many of those are pretty flower gardens, but you'll find plenty of people growing vegetables, herbs, berries, grapes and even fruit trees in containers. These containers range in size from repurposed soda bottles to old pianos, from old claw-footed bathtubs to pet food bags. In fact, it seems that if it will hold dirt that it can be used to grow something, and what you use is only limited by your imagination.

Vertical Gardening – Like container gardening, vertical gardening involves growing food in containers of some type, which are then mounted or attached in to a vertical support system. Another trip to Pinterest will reveal gardens using walls, lattice, ladders, string, pipe, pallets, fencing, shelving, PVC and stacks of containers to grow up. So if space is limited, then change directions, and you'll find that even if you only have a small patio or balcony you too can grow a significant amount of food in a very small space.

Raised Bed Gardening – Similar to container gardening where you aren't tilling up the soil, but putting your growing medium in a container which is above the ground, raise bed gardens might be the perfect option for those who don't want to till. You can place a raised bed anywhere, fill it with your choice of growing medium, fertilizer and mulch, plant your seeds or set your seedlings and watch things grow. Like any other method it has its drawbacks, but you can grow a lot of food in a little space with this method.

Strawbale Gardening – Kind of a blend of container gardening and raised bed gardening, in that the strawbale is the container and the raised bed. With treatment, the straw breaks down forming the growing medium, and at the end of the season breaks down completely to enrich the soil or provide growing medium for containers or raised beds.

Other types of vegetable gardening methods include:

Greenhouse gardening

Aquaponics and hydroponics gardening

Companion gardening

Square-foot gardening

All of these are legitimate ways to set up and grow vegetables, you just have to decide which method works for you. And speaking from experience, you may find that if one method doesn't work, then you need to try something else, or that a combination works best.

Knowledge Increases Production
The more experience, the more knowledge you gain, and you will find yourself studying soil enhancement, compost, weed and pest control, as well as irrigation and seeds. Just remember the more you know, the better your chances of surviving any type of disruption in food distribution and supply.

Also once your garden is producing, then you will need to learn about food preservation and food storage methods. As you can see, there's always something more to learn when it comes to the art of vegetable gardens, self-sufficiency and survival.
But they are life-time skills.
Happy gardening!
---
---
Return from Vegetable Gardens to Backyard Farming


Print This Page