Urban Survival Guide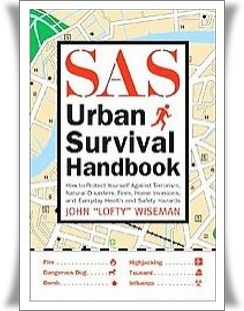 Having an urban survival guide somewhere in your home could be your best chance at survival in the case of an apocalyptic event. While it will be almost impossible to predict the exact nature of the apocalypse, the majority of people live in urban areas. Unless the event destroys everyone and everything in your city, you will need to provide food, shelter and warmth in an urban setting without electricity.
Best Sellers
You can find a surprising number of books that will advertise themselves as an urban survival guide and while some have been churned out to make a quick dollar from panicking worriers, the following make good reading and hold vital information for preppers:
Survive Anything – This book is written by a father and son combination and the main reason to read is that one of them writes from the point of view of the ordinary person with no previous survival experience, while the other has many years of military urban survival experience. This means that you get a lot of detailed information on how to harvest rainwater from the roofs of tall buildings and long-term food storage written in an easy to understand and fun style. A good reference urban survival guide to have on hand that you do not need to have read beforehand to put into practice.
40 Days and 40 Nights – This book accompanies a six-part survival workshop on DVD and holds the key points and reminders in bullet point format. The DVDs are well worth purchasing, as they will show you how to prepare you and your home for a TEOTWAWKI event. This includes bracing doorframes against earthquake damage, sealing your windows against nuclear radiation and mapping local sources of running water if the mains supply runs out. You should read the book and watch the DVDs as soon as you get them as the author, David Morris, recommends multiple steps to take before the apocalypse arrives.
Survive in Place – Out of the books that classify themselves as an urban survival guide, this is the only one that focuses on the importance of defending yourself. It does include useful tips on the usual subjects of food, warmth and shelter, but it recognizes the impact of millions of people trying to survive in a small space with incredibly limited resources. The chapters discuss which weapons to use and their maintenance and how to fortify your home, whether it is an old colonial building in the suburbs or a downtown apartment. The main reason to get this book is that while it speaks in generalities, it then breaks down these big tasks into smaller pieces that you can start well ahead of time.
City and Suburban Survival – Tom Brown, one of the foremost writers on wilderness survival and tracking, wrote this book. The book's chapters cover each major area of survival as well as basic medical treatment, water purification and escape from the city. The overall approach is learning how to apply wilderness survival techniques to the city, so you will learn how to turn household items into long term food storage, using plants as water filters and fortifying your home.
These books are only some of the good survival references, and you may find others that provide solid information that you need. However, these books will give you more than just the basic survival necessities and you should think about buying more than one urban survival guide so that you can compare and contrast the advice as well as pick up new information. Above all, it is never too early to start planning and preparing so you should get your guide as soon as possible.
---
---

Print This Page