Ultimate No Gas Vehicle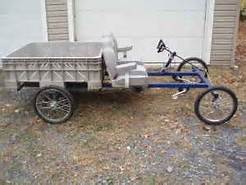 If you are looking for the ultimate no gas vehicle, then look no further because you have found your dream machine, customizable to your standards. It is no secret gas is a high demand, low supply commodity that is fueling wars, substantially increasing the cost of living and hurting the environment, all of which sparked the creation of this no gas road racer.

The other important aspect of this type of vehicle is that it is the only one you can rely on and easily maintain should Judgment Day occur during your lifetime.
Go Boy Go!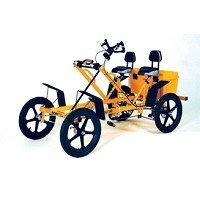 A fast and comfortable ride, the GoBoy is easy to maneuver and low impact on the joints, thus preventing injury and sustaining comfort. This four-wheel bike offers more stability than its two-wheeled ancestor, has a super strong welded frame and a padded seat cushion that is 20 inches wide so you can sit long past the time when your legs become too tired to pedal any further.
When your legs need a rest or if you come to an area you cannot pedal through, have no worries, as this 86 pound bike is light enough for you to push, pull or carry across rugged ground, though it may be easier if you are a really strong guy or a team of two.

Designed for one or two passengers, this model lets you sit up so you stay alert and are in the traditional bike riding position. As an ultimate no gas vehicle, you can opt to upgrade to an electric motor, which is ideal for going uphill but is not going to help for long should D-Day fall upon civilization. Still, for less than $2500 (a standard two passenger model), it is hard to find a downside significant enough to pass up such a great deal.

Not a Golf Cart

The ultimate no gas vehicle has more power than a golf cart because you have more power in your legs, especially if you times that by two, which you can do in a two or four person SportPed. The fact that you are the motor also means no malfunctions and no crashes, as the bike can roll to a stop or you can use the brake, the latter of which always comes highly recommended.
The UV tinted windshield also protects you from harmful rays, prevents glare so you can see where you are going, and it keeps bugs, the wind and the rain to a minimum, allowing you to stay warm, dry, safe and focused on the road ahead.

For your more precious cargo, the ultimate no gas vehicle offers additional safety features, like an accessory bar, passenger support bar and a bench seat in the back so you can put a car seat on it, knowing it is secure. Almost two feet off the ground and with a foot bar in the back, you can rest easy knowing your child's feet do not drag and cannot get stuck in the frame or pedals, as there are none in the rear of the bike.
For even more protection, you can upgrade by adding seatbelts, headlights, taillights and wireless turn signals, though these may not work for long should the world lose power or batteries and light bulbs become impossible to find.

If you want the ultimate no gas vehicle then all you need to do is choose the model that is right for you, upgrade it to your liking and make a direct purchase or, if you prefer, opt for the payment plan. The end of days, green alternative you want is here for the taking so all you need to do now is decide if you want it in blue or green, though one of each is always advisable because, well, you just never know what tomorrow may, or may not, bring. Be safe, be prepared and may the force be with you.
"Foot Force" that is.
Return from Ultimate No Gas Vehicle to Survival Bug Out

---
---

Print This Page