The Tired Old Man
Post-apocalyptic fiction written by Gary Ott, or The Tired Old Man, concerns prepping for a catastrophic disaster using survivalist techniques and relying on a large arsenal for protection against lawlessness and looters.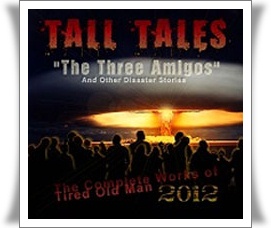 He has also created a Fallout Shelter Stay Calculator Spreadsheet that shows how long you should remain in a shelter following a nuclear disaster in order to avoid contamination. This spreadsheet can be found on various survivalist forums and has been mentioned by fellow prepper Jerry D. Young on his own website and in his own PAW fiction.
Not much is known about The Tired Old Man, although people speculate that he has an extensive background in the military due to his detailed writings about weaponry. A lengthy post on the forum Armageddeon Online.org made by TOM that gives insight into his ideas regarding survival in a PAW:
The Tired Old Man--Jun 19th, 2008, 8:48 PM
"I've done a lot of reading in here. Different threads, different forums. There is a lot of reading to do in here. I live in Florida. Here you have to be ready for storms. But how can you prepare for a 500 hundred year event? That's what they are calling the floods happening now in the U.S.
You stock up on can goods, bottle water and lots of ammo. Then it all gets washed away.
You stock up on can goods, bottle water and lots of ammo. Then it all gets covered in ash from a volcano. So what do you do?
SURVIVAL..It's as old as time. You have to be ready all the time. So if Florida sinks into the ocean ( I live in Florida ) MOVE! What are you crazy? I like warm weather...I hate cold. Seems not all of us are ready to do what we have to.
Okay my oven just went beep. Time to eat.
Survival...no jobs where you at? Move...No food ? Move...
Man has been on the move for a very long time and I think that is why he will be around for a long time. Just a thought..."
Short Writing Piece by The Tired Old Man
This story called "187PC" contains comprehensive information about weapons that many preppers like to read in his stories. Here is a sample delineating Ott's excellent knowledge regarding firearms:
"He opened his rifle case and took out 3 long arms, the first a McMillan Tac-50 A1 R2 with a Nightforce NXS riflescope – 5.5-22x56mm – .250 MOA, Mil-Dot Reticle and Jet titanium suppressor. He had selected Hornady 750gr A-MAX match ammo and was carrying 3 full magazines. The second rifle was also a sniper rifle a Springfield Armory M-21 also fitted with a Nightforce NXS 3.5-15x56mm riflescope, Harris bipod and Surefire FA762K. The most accurate rifle in the world was just a hunk of iron without quality optics. The final long arm was a Mossberg 590A1 SPX shotgun with ghost ring sights and a bayonet. Tonight he had a Surefire light attached to the special foregrip.
His handguns were both made by Glock, the model 21SF and model 30SF with spare magazines for the model 21. The model 21 magazines would work in either gun and he had 2 in an ankle holster like the model 30 plus 4 in double magazine pouches on his belt. The pistols were carried loaded with a round in the chambers."
Later on in the story, The Tired Old Man describes the impending Armageddon caused by an asteroid colliding with the Earth, as reported by the President of the United States:
"My fellow Americans:
Two months ago, astronomers took note of a large asteroid in the far reaches of space that was apparently headed towards the earth. With the passage of time and additional observations, they have determined that the object will pass between the Earth and Moon.
During my morning briefing, I was informed that it could pass within 30,000 miles of our planet. It is expected to arrive in 60 days.
The course of the object, as plotted, make a water strike possible. It should strike in the Pacific Ocean northwest of the Hawaiian Islands. With the passage of time, the calculations will continue to be refined. We have ample time to prepare for the event. I have issued an Executive Order imposing temporary price controls and purchase limits to no more than double the amount of food and supplies a family would consume during the next 60 days. The price controls and limits will expire in 61 days".
As in all of his PAW fiction, The Tired Old Man provides ideas and advice about how to prepare for a disaster by employing food stocking strategies, planting gardens and anticipating civil unrest by protecting against marauders and gangs with ample weaponry.
---
---

Print This Page