Terrorism Preparedness
Considering what is going on around the world, families who have a terrorism preparedness plan in place put themselves at an advantage when it comes to surviving catastrophic events if they were to occur. Many people consider this type of forethought to be foolish, taking for granted that our shores and lives will always be safe.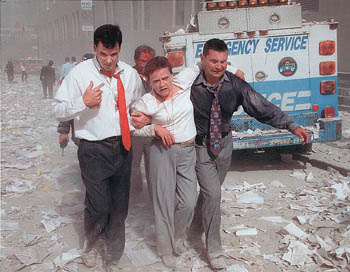 Of course, anyone who was watching television on September 11, 2001 knows that kind of thinking is no longer valid. The events of that day kind of punched a hole in that la-la land thinking.
You may not know when the next terrorist attack will occur, but being prepared can provide you with a little slice of peace of mind, knowing that you are as ready as you can possibly be.
Why Have a Plan?
Terrorist attacks can happen literally with no warning and can come in a variety of mediums. Combat warfare, chemical or even nuclear warfare are all threats to which you should be taking heed and making preparations for to give yourself and your loved ones the best chance of surviving.
Measures for Terrorism Preparedness
If an actual terrorist attack were to occur it is unlikely that there would be any warning of when it will occur or what type of attack it will be. Considering that, you should attempt to prepare yourself for the variety of situations that could take place.
Creating a Basic Home Survival Kit
Regardless of the type of attack that occurs, having a home survival kit as a part of your terrorism preparedness plan is an efficient way to make sure that you have all of the things you will need to meet your families basic needs for at least a few days. This type of kit should ideally be stored in an airtight tub and should contain enough non-perishable rations, emergency and first aid supplies, medications, sanitary supplies and water to get each member of your family through at least three to four days. You may also want to consider purchasing a small radio, batteries, flashlights and possibly even a hand crank generator to also keep in this kit.
Creating a Basic Hygiene Kit
While it is imperative to have your basic needs met, keeping your family healthy and safe will also require that you be able to keep conditions sanitary, even under the most dangerous circumstances.
Create a hygienic needs kit by storing away soaps, disposable cloths, razors, feminine hygiene products, toothpaste, hand sanitizers and wipes, toilet paper, shampoo, sunscreen, toilet bags and biohazard waste containers.
Creating a Terrorism Kit
Along with storing away supplies to meet your family's basic and hygienic needs, a terrorism preparedness plan would not be complete without materials that will help you weather even the most dangerous of scenarios. To create an effective terrorism survival kit, you will want to keep a number of items packed away in a place where they can be quickly located and used when needed. These items include:
Gas masks
Gas mask filters
Sterile drinking canteens
Protective gloves
Protective suits
Radio and batteries
A tent
Plastic sheeting and duct tape to create a secure clean area
We have no way of knowing what the future holds or whether we will ever experience a widespread terrorist attack. It is for that reason that being prepared to be self sufficient and able to sustain yourself and your family for a time until order is restored is the single best way to protect the ones you love.
An effective terrorism preparedness plan will ensure that you have everything you need on hand to create a safe and secure environment in which you can ride out even the most terrifying of conditions.
Return from Terrorism Preparedness to Survival Situations
---
---

Print This Page