Survival Food Bar:
Survival Rations by New Millennium, Mayday, and SOS Food Lab
Having a survival food bar or two tucked away in a bag or your car could mean the difference between life and death in an apocalypse situation. The main difference that sets a survival bar apart from normal cereal or chocolate bars is the sheer number of calories and amount of protein. They are designed to keep you going for as long as it takes you to get to shelter and a better source of food.

What to Look For

With so many options, it's hard to know what will be important in a survival food bar and what is just advertising and fluff. On the whole, a good food bar should contain some if not all of the following properties: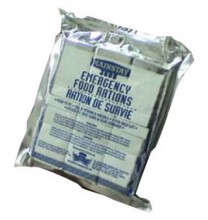 Calorie count – in normal day to day life the average adult needs around 2,000 calories a day just to exist. In a survival situation, however, you may need upwards of 3,000 and possibly even more if you're living in a cold environment. You'll find some companies that offer a bar that packs your whole daily allowance in one bar.
Non-dehydrating – one of the big problems of relying on regular cereal bars for energy in a survival situation is that they often are full of grains that dramatically dehydrate the body. You can't be sure to be near a clean water supply in a survival situation so you should seek survival bars that are made with anti-dehydration technology
Long shelf life – there is no predicting when you'll find yourself in a survival situation, whether it's the result of an accident or an apocalyptic scenario. You need to know that your food supply will be good to eat and won't poison you. The average survival food bar comes with a shelf life of around 5 years so you'll need to keep careful tabs on the best before date on a regular basis.


Survival Food Bar Top Brands
You'll be surprised at how large the market is for something as simple as survival food. It will be important to try as many different brands as possible ahead of time so that you know which fill you up and which don't agree with your digestive system. However, the following are the best three brands that you should try first:

SOS Food Lab – these are the most expensive of all the survival food bar options on the market, coming in at $240 for 40 bars. These bars do carry an incredible 2,400 calories per bar, which is the maximum that you'll find on the market. For a little extra, you can also buy the 3,600 packs which come in two separate bars and will do you well if you live in a cold environment. They are made from pressurized carbohydrates and synthesized sugars which means that while they are advertized with a shelf life of five years, they will actually last closer to 10.

Mayday – the key selling feature of Mayday food bars is that they are designed to withstand incredibly hot temperatures. Their mid range bar will still be edible and effective at temperatures of above 140° F. They come in a range of calorie counts up to 2,000 in a single bar. They are also much cheaper than SOS with 40 bars coming in at $160.
New Millennium – the main reason why you should look at a New Millennium food bar is that they are one of the few brands on the market that offer flavored bars. Many of the other companies worry more about the calorie than taste, but you can get New Millennium in cherry, strawberry and orange flavors. This makes it much easier to get children to eat them. The only downside is that they only come in 400 calorie bursts meaning that you'll have to buy more of them and carry more on a day-to-day basis. A 144-count box will set you back $180 plus shipping.

Remember, a survival food bar is not intended for long-term survival, but as a temporary aid to an emergency survival situation.
---
---
Return from Survival Food Bar to Survival Food

Print This Page