Survival Crossbow a Hunting and Defense Weapon
You should not rule out a survival crossbow when it comes to weaponry while preparing for any disaster scenario. Crossbow's have some distinct advantages over handguns and rifles in certain situations. In a survival situation, you may have the need for silence and unless you have a silencer (illegal) on your gun, it's going to make a lot of noise and alert other attackers. 
Crossbows and the Law
It is legal to buy a crossbow in every state in the United States. Crossbow laws lean towards the regulation of hunting with them and not the survival crossbow aspect we might think of. For example, you can own a crossbow in Oregon for target practice but you cannot hunt with them. 
Laws vary from state to state so you should check the laws in the state you live in. If you step outside the U.S., you will find laws more restrictive in some countries, so check with them if you plan on relocating somewhere like Canada or the UK where you can own a crossbow without any permit or license.
Learning to Use a Crossbow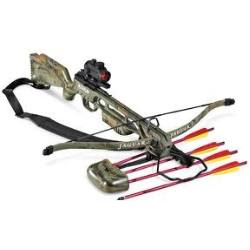 The survival crossbow tends to be safer when kids are around. It's much easier for a child who finds a hidden gun to pick it up and use it. On the other hand, a child is going to have a nearly impossible time loading and cocking a crossbow. Just the same, don't leave your crossbow where a child can access it. 
When using a crossbow there are some things you have to consider that are unique to any bow type weapon as opposed to firearms. You have to be much closer to your target. You also have to compensate for arrow drop even from distances as short as thirty or forty yards. At that distance an arrow can conceivably drop several inches. 
Crossbows are quite a bit slower than a bow to load and shoot and of course much slower than a firearm. The nice thing about a crossbow for some people is that they are held and fired in much the same way as a rifle. If you are a good shot with a rifle, you're going to have a much easier time adapting to a crossbow.
Best Survival Crossbow
There are many different types of survival crossbow, so here are just a few to choose from
Barnett Quad 400 Crossbow: This crossbow has been designed with optimal firing accuracy and power in mind. It has a 150 pound draw and an arrow fired from this weapon travels at 345 feet per second. Your kit comes with quiver and 22 inch arrows. To help with your accuracy it also has a red dot sight.
Arrow Precision Inferno Wildfire II: This recurve crossbow has a 225 pound draw and fires your arrow at 345 feet per second. Package comes with 4 carbon bolts, a quiver, and a red and green reticle scope. Lightweight stock is made from machined aluminum for light weight and strength. Also comes with a noise reduction system.
Excalibur Ibex SMF Crossbow: Here's another lightweight yet powerful crossbow from Excalibur. This one shoots silent at 305 feet per second. Stock is made from reinforced fiber composite from a lighter weight and strength. With the Ibex you get the power without the stress and hassle of an ultra-high draw weight. The Ibex comes with a multiplex crossbow scope complete with mounting hardware, a quiver of 4 arrows, and a rope cocking aid.
Better Get Used to It
As with any other weapon, it takes time to get used to it. If you are handy with a rifle and are deciding between a traditional bow and a crossbow, you will find the transition to a crossbow much easier. Both the rifle and the crossbow are held and fired the same way. You will have to get used to the time consuming reloading. It takes time to reload and cock a crossbow. 
If you are not a tower of strength, or you may feel you could be firing a lot of arrows - a rope cocking aid is well worth buying (approx. $29.99).
If you're considering a survival crossbow take the time now before an economic collapse to practice loading, cocking, and shooting the weapon. Before buying, check the laws in your state regarding the use for target practice and hunting; they vary widely.
Return from Survival Crossbow to SHTF Survival

Print This Page