Survival Bunkers
Hiding out in survival bunkers may be the only way to survive in the event of a nuclear bomb blast or volcanic eruption from Yellowstone. These bunkers are designed to provide full protection against radiation and pollution in the air, as well as providing you and your family with somewhere to live out of sight while the world sorts itself out.
I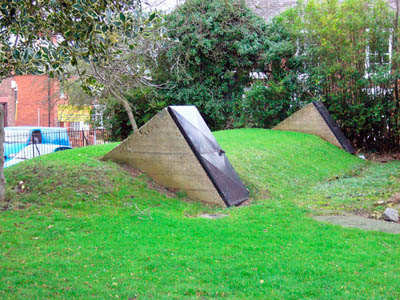 You'll need to find a good location as anything above ground runs the risk of being destroyed in the blast along with anything or anyone inside.
The Basement
A popular location for a survival bunker is the basement of your own home. This has the obvious advantage or proximity meaning that you can stock it fairly easily and you should have access to your favorite personal belongings when disaster strikes.
However, you'll need to make sure that your basement is waterproof as some will have been dug out with the express intention of adding a few thousand dollars to the value of the house. You can add waterproofing membranes to the walls as well as supporting struts in case of any loss of structural integrity.
The only downside to using basements as a survival bunker is if your house loses power, without expensive modifications, you'll be out of power as well and it may be hard to set up a ventilated generator. This will make preserving food difficult as well as ensuring a fresh supply of air and water.
Under the Yard
A better, but more expensive, option is to build survival bunker's underneath your yard. This allows you to get a completely fresh start on the project and means that you can build your bunker to the following minimum specifications:
Excavation — when your contractor is digging out the hole for the bunker, you'll need to make sure that the sides are sloped in to prevent caving or landslides that will put pressure on the walls of your bunker. You should also specify that the area around the roof slopes away from your bunker to allow for good drainage in wet weather.


Space — bunk beds will be the best way to maximize your living space as your bunker will need to stand at least six feet high once the base layer of concrete has been poured in. You'll obviously need to make it higher if you have tall family or friends. Your bunker should be rectangular for ease of building and heating, so have pairs of bunk beds across from each other. Each bed requires a length of six feet six inches and a width of four feet so your whole space should be approximate nine feet wide.


Pressures — while there are no hard and fast rules about how deep your bunker should be underground, you shouldn't go deeper than causing more than 2,500 psi of pressure on your concrete to avoid cracks and structural damage. This typically means that the top of the bunker should be no more than three feet under the surface of the ground.
Renting a Space
If making your own bunker sounds like too much hard work or you're nervous about the cost of digging up your own yard, a few bright sparks have come up with the idea of co-operative bunkers in local communities.
These organizations will sign people up who are interested in investing in survival bunker's for themselves and their family and for a flat fee you will be assured a place in a secure bunker somewhere near to your home. The fee will cover all of your food and fuel usage as well as providing you with company, entertainment and communication systems with the rest of the bunker network. While this may seem extreme now, it may be worth investigating as a back up insurance option.
Return from Survival Bunkers to Survival Retreat
---
---

Print This Page