13 Must Have Survival and Preparedness Apps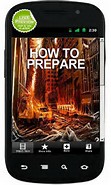 With these 13 must have survival and preparedness apps, you will be ready for almost anything. Survivalists have always used books and the Internet, and now apps are accessible to anyone who owns a smartphone. While many of these apps are available for a fee, there are many that you can download without charge.

Here are 13 must have survival and preparedness apps that can help you to be ready for any emergency.

First Aid by American Red Cross: A variety of medical situations can arise during an emergency. This app will teach you basic first aid and help to sharpen your skills with interactive quizzes.

Emergency Radio (Police Scanner) App: During a riot, it is easy for you to get caught up in the mayhem if you don't know where to go. This app provides up-to-date info from the police and other services that can help you avoid problem areas or situations.

SAS Survival Guide: This app, created by a former soldier, John Wiseman, is packed with useful information. It contains a book written by him, a compass and instructional outdoor videos. It can be used anywhere even without an Internet connection.

Bug Out Bag Survival Guide: This enables chatting with other survivalists from all over the world. This is a good way to get tips and to learn about preparedness.

Cures A-Z: This useful health oriented app offers a list of natural remedies in case medical supplies run short.

Disaster Alert: This app gives up to date information on disasters taking place around the world.

Disaster Readiness: After a disaster, you will need information that will help you recover as quickly as possible. This app aid provides useful information that is useful before and after a disaster. This is one app that should always be on any list of the 13 must have survival and preparedness apps.

WeatherBug: When you have no access to TV or radio, this app will provide real time information on weather conditions for various locations around the globe.

Ultimate Survival Manual: Gives survival advice for different scenarios, as well as provides weather updates and has a built-in Google Maps GPS.

Google Earth: This app helps you find your way based on your current location. In an emergency, it can help you evacuate an area quickly.

ViewRangers GPS: Trails & Maps: This map works even without access to the Internet, providing important navigation information. It is especially useful in search and rescue situations.

Prepper App: This is the ultimate preparation assistant, especially for first-time survivalists. It helps you keep track of your food stock, and gives notice when they near the end of their shelf life.

Wild Edibles: If your food supply runs low, this app will help you find good sources in the wild. It will also help you to avoid poisonous plants.

Aside from these 13 must have survival and preparedness apps, there are many others that can help you get through a disaster. Before a catastrophe occurs, download a few and learn to use them so that you can be ready for any situation.
Of course we don't recommend you become solely reliant on apps, as this in itself could lead to problems. But apps can be a great backup and can get youngsters interested in prepping as they develop their skills for the future.
Return from Survival and Preparedness Apps to Survival Equipment

---
---

Print This Page