Snackmaster Express Food Dehydrator: Function, Convenience, Affordability
The Snackmaster Express Food Dehydrator is a helpful kitchen appliance that can serve many functions. You can use it to create healthy snacks that replace sugary foods, often consumed on the go or when you have no time for a proper meal; on camping excursions or military operations; as a sweet but healthy treat for your children; or as a survival tool.

This device also extends the shelf life of fruit, vegetables and meat, so you do not waste money and can consume your favorite produce at your leisure.
The Appliance
Among the many food dehydrators on the market, the Snackmaster Express is one of the best for a variety of reasons. First, it comes from a well-known and trusted manufacturer, Nesco, a company with over 100 years of experience in the houseware business, more than 80 of which went into improving roasters and dehydrators.

The Snackmaster Express Food Dehydrator pays homage to the knowledge and experience behind Nesco by leading this niche market. The Snackmaster not only dehydrates food in hours instead of days, but it also does so without taking away the foods nutritional content.
This particular appliance has this ability because it dehydrates quickly via a top mounted fan and because it has an additional feature, the Opaque Vita-Save, which blocks light, a primary factor in the loss of nutrients.

Snackmaster Express Food Dehydrator Features

If this does not impress you, maybe the convenience factor offered by this specific device will change your mind. As with older models, and some modern designs manufactured by other companies, you often have to rotate the trays of food so that each one properly dries out; this is not the case with the Snackmaster Express Food Dehydrator.
Nesco made the Snackmaster using patented technology, known as Converga-Flow, a technique that allows you to dehydrate as many as 12 expandable trays of produce or beef without mixing flavors, in just one use, which saves you a lot of time.

The 500-watt Snackmaster offers a couple of other convenient features, such as its small size, great for storage and counter-top use, and its neutral white color, ensuring it will match any kitchen décor. Additionally, this dehydrator comes with a thermostat you can adjust from 95-155° F, allowing you to dehydrate as much, or as little, as you want, making your healthy snacks just the way you like them.
Dehydrated Snacks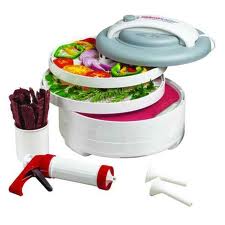 The Snackmaster Food Dehydrator allows you the opportunity to make a variety of snacks that are healthy and convenient in a variety of situations. Aside from the usual peach crisps, craisins and beef jerky, the Snackmaster also comes with a fruit roll sheet so you can make your own, no-sugar-added, fruit, or vegetable, roll-up.
You also get two packs of spices for your jerky so you can add flavor and variety to your edible, no maintenance, good-for-you snack. Some owners of this product have even expanded its use to drying herbs and making chicken jerky for their dogs, as well as venison treats for themselves.

Among the many who dehydrate their own food and purchased this appliance, 98 percent recommend it and credited the Snackmaster Express Food Dehydrator with four or five stars. The price range among various retailers is $50-$85, with the lower end being a great deal, especially when you consider the convenience, health benefits and time saved by this product, along with the rave reviews from other consumers.

The BPA-free, made in America dehydrator also comes complete with a one-year manufacturer warranty, though refund and exchange policies vary with each retailer. So, now that you are educated on the Snackmaster Express by Nesco, go out and get one so you and your family can eat healthier or just stock up and prepare for the next natural disaster or the Apocalypse, whichever comes first.

Return from Snackmaster Express Food Dehydrator to DIY Survival Food
---
---

Print This Page