Seed Starters Handbook
Written by Nancy Bubel, the Seed Starters Handbook, initially published in 1978 and re-published in 1988, provides a comprehensive guide on how to successfully start and grow plants from a seed as well as how to harvest them. The handbook is aimed at anyone who wants to start their own garden, but could be very helpful as a reference guide when preparing for an apocalypse.
Format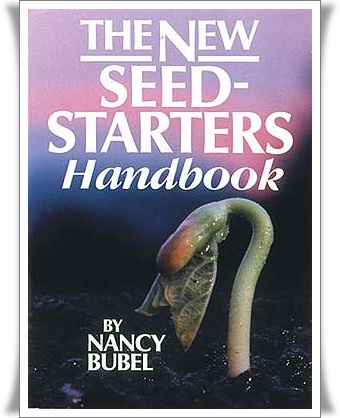 The 385-page book is divided into 38 short chapters and four sections, which are:
One: Starting Seeds Indoors
Two: Moving Plants Outdoors
Three: Special Techniques and Situations
Four: Saving Seeds and Making Further Plants
The Seed Starters Handbook also includes an encyclopedia of plants that you can grow from a seed. The encyclopedia is broken down into these five sections:
Growing Garden Vegetables and Fruits from Seed
Growing Herbs from Seed
Growing Garden Flowers from Seed
Growing Wildflowers from Seed
Growing Trees and Shrubs from Seed
In addition to the encyclopedia, the book features a list of seed suppliers and information on where to get gardening supplies. The handbook also has a recommended reading section if you want more information.
Section One
Section one of the Seed Starters Handbook, entitled Starting Seeds Indoors first discusses why growing your own plants is an advantage and then gives you clear step by step instructions on how to start your seeds. The section contains 11 chapters and each chapter covers an aspect of seed growing. The chapters show you how to obtain seeds, choose where you will grow them, how to care for them, how to transfer them to a bigger container once they've grown and a chapter on fixing common problems that may arise.
Section Two
The second section of the Seed Starters Handbook has 10 chapters and gives you tips on how to move your plants outdoors once you've started them inside. The book gives information on how to prepare the soil, mapping your garden, caring for your plants outside and dealing with animals and insects. The section also has a chapter discussing how to start your seeds outside, without first growing them indoors.
Section Three
Section three is most likely the least useful section of the book for apocalypse survival. It is four chapters long and involves growing wildflowers, trees and shrubs as well as starting seeds in a greenhouse.
Section Four
The fourth and last section is about saving the seeds from your current plants to make new plants. It is 12 chapters long and helps you learn about collecting and storing the seeds until you are ready to plant them.
About the Author
Author Nancy Bubel was a writer who spent the majority of her career writing about gardening. During her career, she wrote several gardening-related books, such as Root Cellaring and wrote articles for a number of different journals, including Mother Earth News, Country Journal, and Organic Gardening.
Reader and Reviewer Feedback
Reviews of the handbook are mostly positive, with many people noting that they enjoyed both the attention to detail and the variety. Reviewers mentioned that they would prefer more pictures and other visual aids, but that the book was overall helpful. As it is geared more towards gardeners, many sections are not particularly relevant if you are buying it for survivalist purposes. However, the parts that are relevant provide clear and helpful information it comes highly recommended by many reviewers.
The Seed Starters Handbook is an excellent resource for anyone looking to start a garden. It is thorough and detailed with plenty of vital information. Learning how to grow plants from seeds is an important skill to learn in the event of an apocalypse. It's a reliable way to provide yourself and your loved ones with healthy, nutritious food and this book shows you how to do that.
---
---

Print This Page