Residential Solar Power Systems
Residential solar power systems provide renewable energy for some or all of your home needs.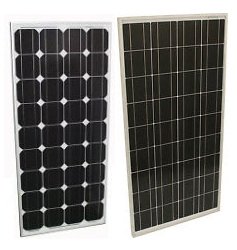 Systems are used simply for hot water needs for example or they can provide power for an entire residence. In terms of survival, solar power may provide the means to maintaining your quality of life and that of your family.
Solar power systems are a good solution to supplying energy to a home in a remote location and ideal for survival acres.
Buying land far from power sources becomes affordable when energizing with solar power and is far prettier, not to mention more easily hidden without the rows of power poles stringing along power lines leading to your home.
Astrum Solar
Astrum Solar offers a solar calculator to determine the estimated cost of residential solar power systems. The individual differences from home to home are challenges to determining the cost of these systems but with installation costs, can range from $10,000 to $50,000 and above, all based on:
Where you live
Size of the roof
Unshaded space on the roof
Electrical usage
Astrum Solar offers full assistance from searching for applicable grants and flexible payment options to getting the applicable permits and approvals from municipalities and home associations for the urban dweller. They offer both leasing as well as ownership of the solar systems, but currently only install residential solar power systems in the states of:
Connecticut
Delaware
Maryland
Massachusetts
Michigan
New Jersey
New York
Ohio
Pennsylvania
Virginia
Washington DC
West Virginia
Constellation
Leasing is an option but not enthusiastically recommended for the survivalist who is looking for off grid solutions. Leasing solar energy although less expensive for the initial investment, is similar to relying on the power companies to provide electricity. Constellation is a company that provides solar power with no start up costs but you pay monthly for the use of solar power. Leasing through Constellation is offered in:
Maryland
Massachusetts
New Jersey
New York
Ohio
Pennsylvania
Washington DC
Wholesale Solar
Wholesale Solar offers all the equipment you need for residential solar power systems. Costs for simple cabins with small energy needs to homes with high-energy usage range from $1000 to $9000, however these prices do not include installation, shipping costs or applicable taxes. The do it yourselfer who understands electricity can install the systems themselves but Wholesale Solar cautions that only the knowledgeable should attempt installation of these systems.
SolarCity
SolarCity is a company that promotes leasing versus ownership of their services. For leasing, you can pay as you go, finance with a custom payment plan, or prepay the initial costs. They provide 20 years of monitoring and repair service for all three finance options for leasing, but 5 years for monitoring and 10 years for repairs if you purchase the system.
SolarCity is promising to expand to other states but currently offer service across the United States in:
Arizona
California
Colorado
Connecticut
Delaware
Hawaii
Maryland
Massachusetts
New York
Oregon
Pennsylvania
Texas
Washington
Washington DC
RealGoods Solar
RealGoods Solar offers both purchasing and leasing plans with the latter requiring no down payment, defined rates and complete care of the system and all components. They also state that solar might not be the solution for all homeowners and they determine this with a free evaluation of your home. RealGoods provides these services in:
California
Colorado
Connecticut
Delaware
Massachusetts
New Hampshire
New Jersey
New York
Pennsylvania
Rhode Island
Vermont
Reputable companies offering residential solar power systems offer free consultation and assessment of your energy needs and design of the system. Installation and extraneous costs are determined upfront and warranties on the components of the systems are standard. With the current tax incentives that governments offer with this alternative green energy source, at the very least you should consider solar powered energy, if not ultimately choose it when it will work for your home.
Return from Residential Solar Power Systems to Survival Equipment
---
---

Print This Page