Outdoor Survival Gear

Outdoor survival gear is necessary whether spending a weekend in the wilderness or stocking a survival retreat. Trying to survive in conditions lacking ready access to professional medical treatment, food and clean drinking water would be difficult, if not impossible, without certain essential items, such as: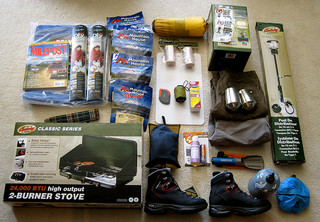 Photo courtesy of lindsay.dee.bunny
Multi-tool knife
Water purification tablets
Compass / map / GPS
First aid kit
Nylon rope
Energy / protein / granola bars
Flashlight/extra batteries
Waterproof matches/lighter
Whistle or mirror for signaling
Larger outdoor survival gear includes:
Tents, different sized, ultralight, waterproof tents can hold one person or six people and come equipped with reflective webbing for easy nighttime visibility.
Tarps provide both daytime and nighttime shelter from rain and sun. Quick to put up and offers large areas of coverage.
Hammocks allow you to rest without coming in contact with wet ground or ground that is swarming with insects. Easily attached to and hung between trees or other solid support. Survival hammocks can hold up to 400 pounds.
Insect shelters and netting provide optimal ventilation and maximum protection from mosquitoes, gnats and other flying, crawling and biting insects. Some are similar to one-man tents but are made from see-through mesh netting instead of heavy, dark-colored canvas or nylon.
"Mummy" sleeping bags are so-called because the cut of this sleeping bag resembles a mummy's coffin, mummy sleeping bags are designed to insulate you from extreme cold as well as retain body heat better than traditional sleeping bags. Some are also equipped with a hood with a drawstring to maximize heat retention. Mummy sleeping bags are so effective that you can leave the bag in the middle of the night and return to the same level of warmth that existed before exiting the bag.
Thermal blankets are lightweight and weatherproof, some thermal blankets have grommets so you can convert them into makeshift shelters if necessary. Manufactured using aluminized polyethylene, thermal blankets effectively reflect body heat back onto the body for maximum warmth.
More Essential Outdoor Survival Gear
The list of items to complete your collection of fundamental equipment for outdoors living include:
Snowshoes, snow shovels, pickaxes, avalanche beacons and hand/feet warmers
Umbrellas, rain ponchos, waterproof backpacks
Solar-powered lanterns equipped with solar panels and providing up to five hours of light
Crank-powered lanterns that also run on rechargeable batteries
Headlamps with white, green or red lights, keep hands free when walking in the dark
Waterproof flashlight/lantern combination eliminating the need to tote a lantern and flashlight
Survival Stoves
Backpacking stoves can be canister stoves, liquid fuel stoves or hybrid stoves that operate using both canister and liquid fuel. Versatile and useful for boiling water and cooking food, liquid fuel stoves contain a burner, a fuel pump and a fuel canister that produces extremely hot heat. Canister or cartridge stoves have a burner, auto ignition and need a butane fuel cartridge. These stoves are popular with hikers because they are so compact and lightweight. Hybrid stoves will use either a cartridge or liquid fuel but are more expensive than other stoves.
Outdoor gear companies also sell stoves that use candles as a heat source. Although not generally hot enough to cook food thoroughly, these stoves are good for heating water and emergency food sealed in pouches. Dehydrated and freeze-dried foods provide days and even weeks of nutrition without the extra weight of canned goods. Dehydrated food only needs water for consumption while most freeze-dried food needs water as well as being cooked.
Remote areas usually contain a number of wild animals, some of which may be dangerous. Types of outdoor survival gear frequently needed for self-defense from animals, as well as humans if the emergency involves the aftermath of an apocalyptic event, include pepper spray, mace, pellet guns, crossbows, Tasers and hand claws. You should stock long-term survival retreats with rifles and handguns as well.
Return from Outdoor Survival Gear to Survival Gear
---
---

Print This Page