Military Survival Gear
Military survival gear is designed to perform in the harshest conditions because the life of the soldier depends on this equipment working at all times. The military spends large amounts of money to design equipment for their soldiers, so they are comfortable and can survive their environment while they are protected from the elements as well as their enemies. If you are looking for military gear make sure you buy from a trustworthy supplier because not everyone produces quality material.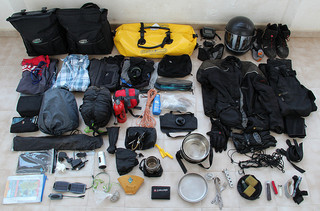 Photo courtesy of cdamian
Quality
The equipment you choose can literally save your life so when you are buying military survival gear try to get the best equipment your budget will allow. Expensive does not always translate to the best quality so do your homework researching the gear and the manufacturer.
Some military gear needs different accessories to complete the product so it can function as it is intended. When you buy this type of gear, make sure the price includes all the accessories, and if it does not, get an itemized price list for all the pieces so you can figure out the total price. The importance of quality cannot be overstated when you are dealing with equipment on which you bet your life.
Clothing and Footwear
The key to buying your gear first understands your environment. The military makes clothing and footwear to withstand the freezing cold of the Arctic, torrential rains of South East Asia and the relentless heat of the deserts in the Middle East and possibly any climate anywhere in the world. Once you determine your environment, start shopping for the appropriate military survival gear.
Clothing features for which you should shop include:
Water proof
Non-Freezing Zippers
Reinforced elbows
Removable liners that can be worn separately
Velcro strap attachments
Ventilation features such as under arm
Multiple pocket configurations
Natural and synthetic material suited for the environment
Footwear characteristics that you need include:
Breathable boots
Removable insoles
100% waterproof
Quality insulation for cold weather
Quality natural or synthetic materials
Shock absorbing features
Easy zipper and lacing systems
Superior soles for the intended environment
Other wearable gear such as gloves, elbow and kneepads, hats and goggles or sunglasses are also very important. Choose these items as you would any part of your gear according to the environment where you live or will relocate.
Field Gear
Two of the most important field gear items you will carry with you are the backpack and sleeping bag. The backpack will carry the majority of your military survival gear including your sleeping bag in some cases. Choose a bag with multiple uses and features including:
100 % water proof
Multiple attachment points with Velcro
Compression straps
Select storage capacity depending on your needs
Internal organizers
Air Channel back support
Quality zipper and snap and lock mechanisms
Select your pack carefully because carrying items you do not need will only slow you down and make you inefficient. When you choose your sleeping bag look for quality insulation, locking mechanism, water proofing and compact size. Consider a pack that comes with a Camelbak water storage and delivery system.
Knives and Tools
Knives and other tools are a critical part of military survival gear especially if you are on an extended survival situation. The knife and other tools you select should provide multiple uses. Multiple applications from one item eliminate the need to carry more pieces on you. Select high quality metals such as 420HC stainless steel and 1095 carbon steel blades and finishes on the metal to inhibit rust. Multipurpose tools such as Leatherman give you several configurations with good craftsmanship and materials.
Lighting and Navigation
LED or light emitting diode flashlights can last for a very long time while providing bright illumination. When you choose a flashlight make sure it is waterproof made with aircraft aluminum or very strong composite material able to withstand drops. Even though LED light bulbs can last up to 10,000 hours or more always carry replacement bulbs, filters to dim illumination and extra lithium ion batteries. You can get a compass or a GPS device for navigation but always have a compass with scales for mapping or plotting because a GPS device can stop working.
Other Gear
The list of gear is very extensive and no matter what items you choose take your time to find the best product in every category and include other essential military gear such as:
Water purification systems
First Aid Kits
MRE's - Meals Ready to Eat
Weapons
The key to having the right gear is knowing your environment and it bears repeating because if you do not understand your environment you will not carry the necessary military survival gear that could potentially save your life.
Return from Military Survival Gear to Apocalypse Survival Gear
---
---

Print This Page