Jerry D Young
Author and emergency preparedness expert Jerry D Young grew up on a small farm in Missouri with his five siblings and parents. Here he learned how to preserve food, raise livestock and crops, cook, sew and many other skills that eventually contributed to his mastery of survival techniques he now incorporates into his "SHTF" novels and stories--i.e. "S*** Hits the Fan".
He has a trademark saying that also includes a well-known acronym: prepare for the worst, hope for the best, and always remember TANSTASFL, that is There Ain't No Such Thing As A Free Lunch, an adage created by renown science fiction writer Robert A Heinlein.
His First Experience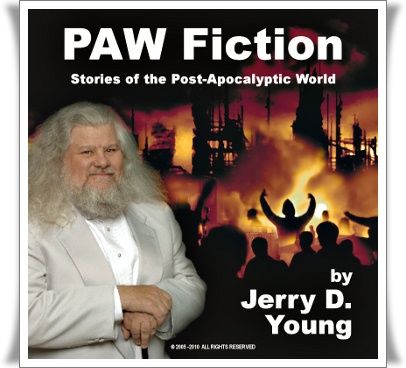 In 1962, the Cuban missile crisis brought the United States to the brink of nuclear war with Russia. Jerry D Young assisted his parents in preparing for a possible nuclear exchange between the U.S. and Russia by cleaning the farm's underground tornado shelter and stocking it with food canned by his mother. He has said that the intensity of this action made a deep and lasting impression on his young psyche, making him realize the importance of being prepared for a catastrophe that could instantly eliminate easy access to food, water and shelter.
The Writing Bug Hits Him
He began writing survivalist stories when he was 13. His first story dealt with a group of children his own age learning to survive during an invasion by the Soviets. Jerry D Young in high school began reading SHTF literature such as Pat Frank's Why, Alas Babylon and How to Survive the H-Bomb. He started to adopt survivalism as a lifestyle by keeping food stocked in his bedroom and becoming an expert rifleman.
He continued writing after graduating high school and eventually found thousands of other individuals who shared his interest in self-sufficiency and preparing for any kind of disaster. When he began posting his post-apocalyptic stories on various Internet message boards, he quickly developed a huge following comprised of like-minded preppers and survivalists.
Jerry D. Young is currently the author of more than 100 post-apocalyptic world (PAW) vignettes and stories. Just a brief list of the titles to whet your appetite:
3 Time Jinx
An Old Man and His Tractor
Bad Times Coming
Bugging Home
CME
Cosmic Buckshot
Disaster in the Burbs
Don't Bug Me
Felix the Cat
Getting Hot
I'd Rather be Dead
If You Don't Like the Weather
Just In Case
Kayak Bug Out
Missouri Rafter
Missy
Never Too Young
Shake Shake Shake
Syndemic Pandemic
The Hermit
This Can't be Good
Visions of 2012
Ware Ye
You Just Never Know
All of his PAW fiction, both short stories and book-length novels are free to download, available on his website: www.jerrydyoung.com
He's also written and sells four non-PAW novels: Mr. Man, Expedition, The Contract and Shipwrecked! Like most of his over works, these all have a bit of romance for those ladies who enjoy a good read.
Non-PAW Fiction
Mr. Man
Written in third person, Mr. Man tells the story of Craig Mann, who has had less than positive experiences with children and women. He encounters a widow and her three children struggling to make ends meet when the woman is very ill. Eventually, he begins taking care of the family despite his reservations about becoming involved with them.
Shipwrecked!
Cruise ship survivors become shipwrecked on an isolated South Pacific island and begin fighting among themselves. One person has the knowledge and experience to keep the group from perishing in the wilds but will he help the argumentative group or will he decide to abandon them for the peaceful existence provided by the island?
Jerry D Young is a popular and prolific survivalist writer, who continues to write and post his fiction on the internet for his fans as well as the newest members of the emergency preparedness community.
---
---

Print This Page