Hurricane Preparedness
For people living in hurricane-prone regions of the U.S., hurricane preparedness can mean the difference between suffering the devastating consequences of a hurricane or skillfully avoiding the stress and hardship that hurricane damage can cause.
Not only do hurricanes generate flooding and destructively high winds, they also can spawn tornadoes and create a storm surge large enough to wipe out an entire town. Remember, in times of natural or man-made disasters, you cannot count on other people or the government for assistance. Self-reliance and foresight significantly contribute to crisis preparedness.
About Hurricanes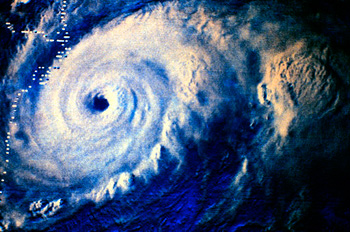 Hurricane strengths are categorized one through five, with five being the strongest. When the National Weather Service issues a hurricane classification, they are basing it on sustained wind speeds:
Category 1 — 74 to 95 mile an hour winds will cause minimal damage
Category 2 — 96 to 110 mile an hour winds will cause moderate damage to roofs, mobile homes, downed trees and power lines
Category 3 — 111 to 130 mile an hour winds will cause extensive damage — destruction of small buildings, flooding of roads, downed trees and power lines
Category 4 — 131 to 155 mile an hour winds will cause extreme damage
Category 5 — winds over 155 miles an hour will cause catastrophic and long-term damage
Hurricane preparedness also needs to address torrential rains and flooding, which can provoke mud and landslides in mountainous areas. With category one, two and three hurricanes, there is always the danger of flash flooding as well. Avoid driving on rural roads during and after a hurricane until the threat of flooding has receded.
Basics of Hurricane Preparedness
A hurricane watch being issued for a certain area means that residents should prepare for the potential landfall of a hurricane. A warning, on the other hand, indicates a hurricane will definitely make landfall and individuals should begin making preparations.
If you plan on remaining in your home during a hurricane, you should implement these basics as soon as possible:
Have a radio with you at all times to listen to updates from the National Weather Service.
Bring in all lawn items that are not anchored.
Close hurricane shutters or start to nail plywood across all windows and doors.
Place your freezer's or refrigerator's setting on the coldest level. Keep the doors shut to preserve food in the event power is lost.
Fill the tank of your car.
Keep a sufficient amount of cash with you during the emergency.
In addition to stocking fresh water, fill the bathtub with water as well.
If you don't have a basement, wait out the hurricane the same way you should a tornado — by staying in a first-floor interior room such as a hall closet.
If you have time, trim away weak or dead branches on trees that are close to your house. This can prevent damage to your home.
Hurricane Preparedness Supplies
Three- to five-day supply of non-perishable food
Three- to five-day supply of fresh drinking water
Flashlights and batteries
First aid kit
Basic tools — screwdriver, pliers, hammer
Personal hygiene and disinfectant items
Fully charged cell phones
Blankets/sleeping bags
Extra clothing — especially socks and shoes to avoid fungal infections from having continuously damp feet
Insect repellant
Power Outage Preparedness
With hurricanes higher than a category two, power outages are common, especially in more rural areas where falling branches and trees break lines and poles. Problems with power outages include food safety and avoiding downed or live power lines. Keeping a generator in your home will avert most issues associated with having no electricity. When water purification systems are inoperable due to power outages, access to safe drinking water may be limited. Use only boiled or bottled water if you suspect water may be contaminated, especially when cooking, washing dishes or brushing teeth.
Attending to hurricane preparedness before the disaster occurs can save you and your family the stress of dealing with major problems that could have been easily prevented.
Return from Hurricane Preparedness to Survival Situations
---
---

Print This Page