How To Plan A Garden for Sustainability and
Long-Term Survival Food
Learning how to plan a garden to give you the maximum yield of fruit, vegetables and grain will be one of the most important skills you'll pick up in your quest for post apocalyptic survival. While you'll need to think about having enough canned food for the first few months or so in the case of a nuclear attack, at some point the ready-made food will run out. When that happens, you definitely don't want to leave yourself in the position of having to fight it out with other survivors in the food lines or looting supermarkets.
Factors to Consider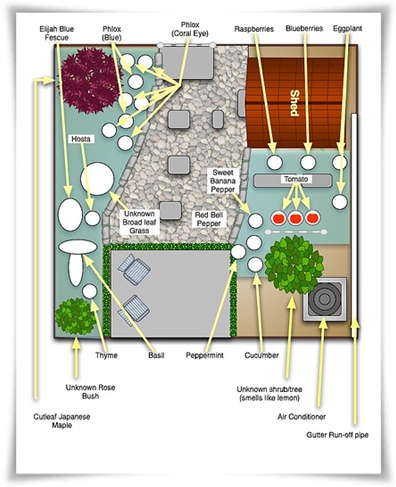 Photo courtesy of jeredb
When you're thinking about how to plan a garden for survival, you'll need to think about what you're planting. The temptation may be to grow things that taste good or things that grow high to save on space, but these tend to take a long time to grow and require a lot of nurturing and care to get right. You need to think about having enough food in your garden that you can pick and store to feed you for a year. Learning how to plan a garden means you should look at plants that give you:
High yield – unless you're lucky enough to own a large garden, the chances are that you're going to be trying to squeeze as many plants as you can into a few hundred square feet of soil. This means you need plants that will give you the maximum weight or number of vegetables when they are fully grown.
Good nutrition – each adult in your survival party will need 2,000 calories at a very basic level just to survive each day, though in reality this number will be much higher as they will have physical labor jobs to complete each day. To this end, you need to avoid fruits and vegetables that are high in water, such as tomatoes or water melons, as they yield a very small number of calories per gram.
Long term storage – you'll need to find a way to store the produce that comes from your garden, unless you're feeding a large number of people. You have to make the basic assumption that you'll be without power in this survival situation which means that you won't have access to your refrigerator or freezer for long term storage. This means that canning will be your best option, and most vegetables with high water content don't store well even in cans. The exception to this is things like peas or beans that have a tough outer shell.
Seed Saving – in this modern world you can rely on other people to sell you seeds of whatever plants you decide to grow next once the current crop has been harvested. In the future, you may not be lucky enough to know people who can do this for you, so you need to look at growing plants that will give you the seeds for the next generation. This includes things like seed potatoes and the flowers of most root vegetables.
How to Plan a Garden of Best Growers
Learning how to plan a garden is a question of picking the right vegetables for the soil that you have. However, the best growers across the whole country that meet the above criteria and that will grow in just about any climate are:
Beans
Corn
Potatoes
Winter squash
Sweet potatoes
When you're thinking about starting a garden for both sustainability and survival, you should aim to start as early as possible. Even if the apocalypse isn't imminent, you can become much more self-sufficient which will save you money on your grocery bill and you'll be able to start learning how to can and dry food ahead of time.
---
---

Print This Page