GOOD Bag: Get Out of Dodge Bug Out Bag, Kit or Backpack for Kids and Pets
When it is time to "get out of Dodge," you need a GOOD bag full of emergency supplies so you can survive until the crisis is over or help arrives. If you plan ahead, you are likely to purchase kits for the adults in your family, but also for your kids and pets, which you might normally forget to pack when under pressure and time constraints.
In general, the emergency bags do not come with much food, so allotting each person their own bag is a smart idea, as is going through the contents to determine if any items are unnecessary so you can have more room for sustenance.

GOOD Bag Just for Kids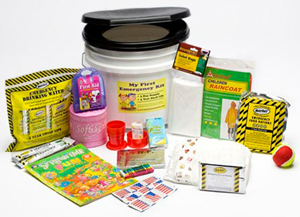 The Guardian Children's Survival Backpack has many of the necessities your child needs to feel safe and get through the first few days of turmoil. A polar fleece blanket, winter gloves and body warmer gives your child the ability to maintain their normal temperature and helps to prevent frostbite or worse, hypothermia. The kit's whistle enables your child to call for help in the event they become lost or simply to signal they are okay while the LED flashlight and glow sticks ensure they do not have to be afraid of the dark.

In case of an accident or fall, the GOOD bag also has a first aid kit with antiseptics, bandages, wraps and alcohol pads, all of which can help to clean wounds, prevent infections and manage injuries. As for food, the backpack only has six snack bars, each with just 400 calories, which means your child has about a two or three day supply of food.

Depending on your particular emergency, this might be more than enough to meet your needs but it could also fall short if the circumstances require a longer period of self-sufficiency. To be safe, you should probably take out the toys and coloring books in the GOOD bag and replace them with the self-heating military meal packs, high-calorie, high fat bars and small bags of dried fruit.
The Cat's Meow
Most people would never consider leaving their pet behind, though animals have good instincts and could probably survive well on their own, making this emergency purchase optional. If you are two adults and two small kids, you might not want to lug an extra bag and have to hold on to your cat's leash, which could be problematic since you do not walk a cat the way you do a dog.

However, if you do decide not to leave things to chance and ensure the safety and well-being of your pet, you may decide to purchase the Guardian Cat Survival Kit. This GOOD bag is full of necessities to keep your cat safe but again, does not offer much with regards to food. The contents of this kit include an: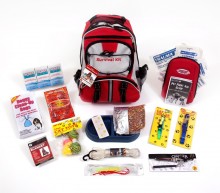 Emergency Blanket

Pet First Aid Kit

Pet Waste Bag

Rope

Toys

Extra Collar

Bright Sticks

Three packs of water

One pack of food

It is unclear as to the benefits a cat receives from having bright sticks or an extra collar and toys but if you feel your cat needs entertainment over food, by all means keep these items in the bag. If you want your cat to survive, replace the unnecessary stuff with food and water tablets.

If your living situation is no longer safe or healthy and you need to "get out of Dodge" quick, then you need a GOOD bag, but you have to plan ahead because this is not something you can purchase at the grocery store. In fact, these bags are currently on backorder because the last few natural disasters scared people so much they decided to prepare, just in case, which is exactly what you should consider doing because you need to always expect the unexpected.

---
---
Return from GOOD Bag to Survival Bug Out

Print This Page