Freeze Dried Rice Entrees:
Pilaf, Mexican Rice and Chicken,
Sweet and Sour Pork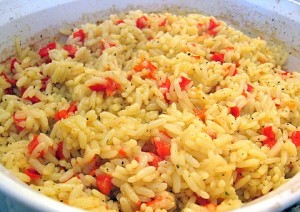 Freeze dried rice entrees offer quick and nutritious food and certain entrees may even bring comfort and memories of Chinese take out before the catastrophic event. You are not limited to Chinese cuisine, however, as you can choose from Mexican meals or even a simple chicken and rice dish. 
The preparation of these meals is very simple as you just add boiling water, let it stand a few minutes then you have a full meal ready to eat. You can eat the meals now or keep them for either an emergency or catastrophic event.
Emergency Essentials and the ReadyStore have a wide selection of quality freeze dried rice entrees that are available in pouches and #10 cans and the pouches have a shelf life of 10 years and the cans are good for 25 to 30 years. Mountain House and Saratoga Farms are trusted names in preparation of food for long-term storage and offer various flavorful and tasteful meals.
Freeze Dried Rice Entrees

Rice is low in sodium and a good grain to include in your long-term storage. Brown rice however has fatty acids in the outer layers, which tend to spoil but the rice loses its nutrients when processed into white rice. In the United States, the food processors add vitamins and minerals to the rice, which replaces some that were lost during processing. Frequently if you wash the white rice before cooking, you wash away the added nutrients.
The rice in the freeze dried entrees is enriched with niacin, iron, thiamine and folic acid, and you simply add water to reconstitute the meals. The rice keeps its fortified additives and you get your needed nutrients.
Sweet and Sour Pork
Mountain House offers sweet and sour pork with rice in a pineapple sauce. Reviews rate this meal highly with claims that even picky eaters enjoy this entree. For about $37, the #10 can will provide 10 servings providing vitamins and minerals. Mountain House also sells a pouch for less than $9 and it serves from two to five people depending how much they eat.
Mexican Style Rice and Chicken
For about $35, you can purchase Mountain House Mexican style rice and chicken along with tomatoes, pepper and olives with spicy seasoning. Sold in a #10 can, these freeze dried rice entrees offer spice and variety to the menu.
Rice Pilaf
Mountain House offers a wild and long grain rice pilaf that includes:
Mushrooms
Broccoli
Green beans
Sweet red peppers
Parmesan cheese
The cost of the #10 can is under $30 and the seasoned blend of rice, cheese and vegetables is a tasty meal whether for a quick dinner on a busy night or during an emergency. It also comes in a pouch for about $8 and it provides dinner for two.
Rice and Chicken
A simple yet flavorful dish, this Mountain House freeze-dried entree has pimientos with a tasty sauce. Costing under $22, the #10 can has about 8 servings per can. Saratoga Farms offers a pouch for about $11 that serves four people.
The freeze dried entrees are quick, easy to prepare and you are able to enjoy the original taste of the product. You can use a hot or cold water to rehydrate and the meals are compact and lightweight. You have no waste with the foods and you are able to provide variety and savory meals.
It is a good idea to start fixing and eating the entrees now to determine what you and your family prefer so that you can stock up on your favorites. You can stow the pouches in bug out bags or even pack a few as back up food for your college student. You don't have to wait for an emergency or catastrophic event to use the freeze dried rice entrees.
---
---
Return from Freeze Dried Rice Entrees to Survival Food

Print This Page