Family Evac Kits:
Bug Out, Go or Get Out of Dodge (G.O.O.D.) Bags
Why family evac kits? If you think about it, you could probably find a number of reasons to invest in a family evacuation kit, such as earthquakes, tsunamis or quarantine. In today's times, anything is possible, from biological warfare to drought or crop reduction due to global warming, all reasons you should prepare your family for an emergency.
You would not be able to survive for more than a few days, depending on the weather, without water; a couple of months with no food, if you are in top physical shape; and you probably want to avoid developing sanitary problems or bacterial infections due to a lack of hygiene products.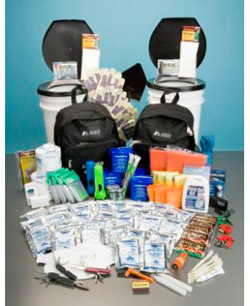 Port-a-Safety

Your main reason for wanting an emergency kit is to keep your family safe and protect them in the event something horrific happens, which is exactly the goal of The Ready Store. They carry a couple of all-in-one deluxe family evac kits that have everything but the kitchen sink, though they do have a port-a-potty.

Inside of two durable, five-gallon buckets, aka the potties, is a lot of emergency equipment and plenty of room for you to add more of your own essentials. To start you off, this kit has two backpacks, tents, flashlights, toilet seats and emergency candles. It also has whistles blankets, waterproof matches, soap, a razor and a respirator mask.

One drawback to this kit is that it offers almost no food, as four energy bars split between four people is hardly enough to get through a day, though at 3600 calories a piece, 24 hours should not be an issue. On the plus side, the kit comes with two buckets and two backpacks, which means that if you do not mind using the outdoors as your toilet, you can nix the cleaning supplies and fill up the would-be-toilets with extra food packets and water.

It might also make you feel better to know a fellow consumer found the toilet to be problematic, as the handle does not come up with the lid on and after using the potty, it is doubtful you would want to then carry the lid. Aside from cost, as some felt the price was a little high for the contents, most consumers found these family evac kits to be good starting points with plenty of room for you to add more essentials.

Family Evac Kits for Peace of Mind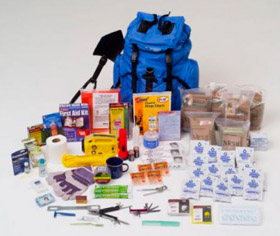 You can rest at ease, at least for a little while, with the Ultimate Ready family evac kits, as these bags could make a soldier proud. Instead of lugging around potties, you can carry six times more food and water, as well as a foldable stove, giving you and your family at least one week of peace of mind.

In addition to knowing you are not going to starve, this kit also ensures communication, with a radio, flashlight combo and a cell phone charger. A compass, duct tape, wrench, knife, rope and tarp also help to ensure that you can address any problem that comes along while you are coping with your emergency situation.
Since these bags carry so much, you have the option of buying additional packs for your kids to carry, depending on their age of course, and filling them with more food or other essentials, such as a flint, clothes, bug-repellant, sunscreen, mittens and hats.

Most people do not like to worry about all the things that could go wrong but ignoring the possibilities does not make the chances of occurrence diminish, which is why it is better to prepare than to do nothing. Family evac kits are not necessarily cheap and if you do not use it within five years, the food goes to waste, but if you look at the bigger picture, can you afford not to prepare for the unexpected?

Ready.gov - Evacuating Yourself and Your Family

---
---
Return from Family Evac Kits to Survival Bug Out

Print This Page