Emergency Weather Radio
NOAA Emergency and Weather
Alert Radio
An emergency weather radio is a vital piece of survival equipment to include in your home and in your BOB or BOV. When electricity is inaccessible, having a solar powered or crank-type emergency NOAA radio provides vital information following the occurrence of a disaster situation as a result of severe weather.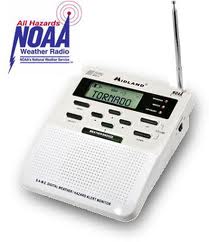 The U.S. National Weather Service and the National Oceanic and Atmospheric Administration transmits continuous updates concerning weather conditions affecting all areas of the world and also conveys warnings when dangerous weather systems develop and threaten a region with flooding, wind damage or extreme heat.
Created by the Federal Communications Commission, the Emergency Alert System immediately transmits information to specific areas concerning a variety of emergencies. Messages broadcast by the EAS are sent to satellites, cable television networks, pagers and other media outlets. Originally, the EAS was the Emergency Broadcast System, but with the development of digital technology, it was replaced in 1996 by the EAS.

NOAA Emergency Weather Radio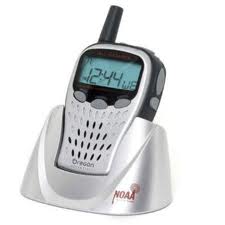 Users of an emergency weather radio can access seven VHF frequencies via the NOAA that range from 162.400 MHz to 162.550 MHz. Immediately prior to a severe weather warning, the National Weather Service will transmit a 1050 Hz alarm that activates receivers even if the sound is turned down on the radio.

The Eton ARCPT300W American Red Cross Axis Self-Powered Weather Radio is an excellent emergency receiver that provides you with information regarding impending severe weather. Product features of this radio include:

USB cell phone charger (20 minute charge time for about 25 minutes of phone time)

Equipped with AM/FM capability

Flashing red beacon is activated when a warning is issued

Powered by crank/dynamo generator, three AAA batteries or AC electric

Headphone outlet (3.5mm)

AUX-IN input

Alarm clock

Moisture resistant

Rechargeable NiMH (nickel/metal hybrid) battery

It also has pre-programmed weather channels: Channel 1 162.400 Mhz; Channel 2 162.425 Mhz; Channel 3 162.450 Mhz; Channel 4 162.475 Mhz; Channel 5 162.500 Mhz; Channel 6 162.525 Mhz and Channel 7 162.550 Mhz

Information provided by an emergency weather radio can warn you about the location of tornadoes on the ground, expected wind speed of incoming hurricanes, how much snow a blizzard is expected to drop on a given area and if rainfall amounts will cause widespread or localized flooding.

Weather Terms Frequently Used by the National Weather Service
An advisory means that inclement weather is heading your way but conditions will not warrant taking any special actions because the event will not produce significant problems as far as flooding, wind damage or snow emergencies.
Wind Alerts - If the NWS issues a "wind advisory", this means that winds are going to exceed 35 miles per hour but are not expected to increase. Caution when driving is usually recommended during a wind advisory.
Blizzard Warning - Blizzard conditions indicate the coming of a winter storm that will produce significant snowfall amounts, drifting and blowing snow and reduced visibility when driving. Winds frequently gust up to 40 or 50 miles per hour during a blizzard.
Ice Storm Warning - With an emergency weather radio, you will have enough time to prepare for the problems caused by an ice storm, a severe weather event that involves rain falling as rain but freezing upon coming in contact with extremely cold items such as cars, trees and power lines. When the NWS expects ice to build up more than a 1/4 inch, they will issue an ice storm warning due to the probability of power lines going down as well as tree limbs and whole trees.
Heat Warning - Excessive heat warnings are serious and need to be heeded so that you do not succumb to heat stroke while outside. The NWS usually transmits an excessive heat warning 12 hours before the condition is expected to affect a region. With this warning, expect a heat index of 105 degrees Fahrenheit or more to impact at least three hours of daylight for two or more days.
Flood Advisory - Flash flood warnings means that flooding may occur a few hours following heavy rainfall, especially around low lying areas and small creeks
Being unprepared for severe weather conditions may put you in dangerous situations that could have been prevented by having access to an emergency weather radio. The NWS recommends keeping at least two in your home to provide you with the latest information following a weather disaster.

---
---
Return from Emergency Weather Radio to Survival Equipment

Print This Page