Emergency Burn Care Kit
An emergency burn care kit is an essential piece of first aid kit that every survivalist needs. The chances of a chemical, radiation, radiant heat, electrical or fire burn are ever present in a catastrophic event. Skin exposed to any of these types of burns may suffer:
First degree burns whereby the outer most layer of skin is burned.

Second degree burns whereby the outer most and middle layer of skin is burned.

Third degree burns whereby the outer most, middle and innermost layer of skin is gone and often requires skin grafts or use of synthetic skin when available.

Making Do

In a post apocalyptic world, it is likely the only option is the basic treatment used for first and second degree burns and that treatment is: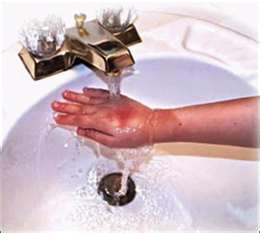 Remove the heat source from the victim

Cool the burn but pay attention to the victim that you don't cause hypothermia. Do not use ice, as it will further damage the tissue.

Clean the burn area and keep it clean.

Use antibiotic ointments and creams to lessen the risk of infection.

Cover the burn with a lint free bandage, which will protect the wound.

Manage the pain, as one of the biggest challenges to third degree burn treatment is pain. The wound cleansing must happen but it can be a very painful experience.

Prepare in Advance

To treat burns, you should have an emergency burn care kit with your first aid provisions and it should contain products that:

Stops the burning process and cools the affected skin

Relieves pain

Sterile, non toxic, lint free bandages

Antibiotic creams or ointments

Aloe vera creams

Pain medicine such as acetaminophen (Tylenol)

Commercially complete kits are available for purchase or you can build your own kit with individual products. The cost of buying a kit is about the same as buying the individual products to make your own kit.

BurnFree® Burn Care Kits

BurnFree® is a water soluble gel that is thick enough to stay on the burn to protect from infection but washes away easily so that the site can be examined or treated with other strategies. The small kit contains 12 1/8 ounce packets and one 4-ounce of BurnFree®, as well as four sterile burn dressings and 2 roller gauze.
The BurnFree® Industrial Burn Care Kit has the same contents, but more of them, such as 10 sterile burn dressings and 24 packets of BurnFree®.  BurnFree® also offers a personal care emergency burn care kit, which would meet the needs of one-person & costs about $15. The cost of the small kit is about $30 and the large kit is about $80.

Water-Jel Burn Kits
Water-Jel ® Large Soft-Sided Burn Kit With Blanket has a variety of products that use its Water-Jel that is mostly water but does not readily evaporate. It contains a natural antibacterial oil and the cooling is so gradual, hypothermia is not a problem. The large emergency burn care kit sells for about $170 and contains:

A carry case

A fire blanket

Large burn dressing with pre cut facial holes

Five burn dressings of various sizes

Sterile gauze rolls

Pair of scissors

An instruction card

The Water-Jel Small Soft-Sided Burn Kit is available for about $90.00 and does not contain the fire blanket and has only four burn dressings.

Preparation is key to survival in an emergency situation and being prepared to treat burns is a sensible and practical step. In a survival environment, open campfires and alternative cooking methods increase the likelihood and opportunity to sustain a burn. Buying or assembling your own emergency burn care kit is a good step for the prepper to take, as no matter the source of the burn, the treatment is the same.

Return from Emergency Burn Care Kit to Survival Medicine

---
---

Print This Page