Country Living Grain Mill
Owning a Country Living grain mill will give you an invaluable resource that you can start using way ahead of any apocalyptic event. When the time comes and you cannot buy any bread or flour because the supermarkets have shut down, a grain mill will allow you to become self-sufficient in terms of your fiber and carbohydrate needs. These are often the two food groups missed out by most preppers but which are important in terms of long-term energy and health.
Key Features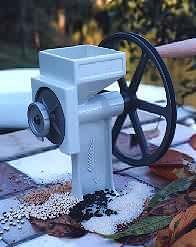 You will find a lot of different grain mills on the market but the Country Living grain mill is rated as one of the best on the market in terms of volume, speed and quality of the flour it can produce. The key features that set it apart from its competitors include:

Power bars require 30% less torque – While being able to grind your own flour will be a very useful skill to have in a post-apocalyptic world, the reality is that it can be hard and heavy work. The sheer weight of the flywheel alone takes a lot to turn and the combined forces of the stone grinders means that operating a normal mill for more than 30 minutes can be exhausting. The Country Living grain mill is designed with a light weight flywheel and long handles, called power bars, to allow you to reduce the torque by up to 30 percent meaning that you can grind a lot more flour using the same amount of energy.
Two pound hopper – The physical nature of grinding your own wheat or grains means that once you've started to get into a rhythm, you do not want to stop to refill the machine any time soon. This is why Country Living has put the market's biggest hopper on their grain mill allowing you to mill two pounds at a time. If you have ever baked bread at home, you will know that producing two pounds of flour provides at least two good loaves so it is in your interest to mill as much as you can at one time.
Double sealed ball bearings – The strength and durability of the moving parts of any grain mill are not really a big concern to most people as replacement flywheels and ball bearings are available in plenty of places. However, in a future where you are on your own, a worn-out ball bearing can undo your whole food plan. The Country Living mills have industrial strength double sealed ball bearings, which they claim will last up to 10 years of weekly usage if you oil them correctly. This is far longer than any other brand and you also can buy spares when you get the basic grain mill.

Motorizing the Mill
Many people like the idea of milling their own grain but do not like the hard labor aspect of it. Again, the people at Country Living thought about this which is why, for an extra $385, you can buy a motor for your Country Living grain mill. This simple device attaches to the front of the flywheel where your power bar would normally attach and operates the mill for you through a simple belt and pulley system.

The only difficulty with using a motor to power your Country Living grain mill is that at some point you'll need a supply of electricity which may be in short supply when you come to really need the mill. This may prompt you to start thinking about installing wind turbines or solar panels as a way of keeping yourself in flour. At the very minimum, you need to learn how to hand operate the mill so you can always produce flour in an emergency.

Return from Country Living Grain Mill to Survival Food

---
---

Print This Page