Canoe Trailer
A canoe trailer may not seem like an obvious part of your survival preparations, but this probably means that you've not thought about the possibilities that water travel can bring you in an apocalyptic scenario.
Benefits of a Canoe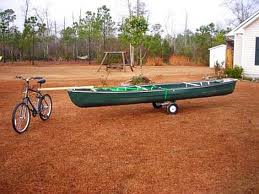 Owning a canoe trailer will allow you to bring along a canoe, or indeed a kayak, to your permanent base camp. While this may seem an extravagant use of space, think about the benefits that a canoe can bring:
Utilizes water ways - the first thing that will happen when the evacuation signal is given is that everyone will pile into their cars and hit the highway. This will cause massive traffic jams, which you can avoid if you take to the water. Once the dust has settled, traveling by water also means that you can avoid meeting other people on the road who may not be good company, and gives you the opportunity to get to uninhabited parts of the country to avoid fighting for resources.
Requires no fuel - you have to make the assumption that getting hold of gas or diesel will be almost impossible after a TEOTWAWKI event. Therefore, a canoe will put you ahead of the game in terms of transport as it solely relies on your muscle power. You will have to make sure that your oars or paddles are brand new and that part of your bug out kit contains strong tape and splints to repair any broken parts.
Perfect for fishing - finding food will also be an important part of any survival plans and again the canoe offers you access to food sources that others won't be able to find. You'll be able to go out beyond the banks of lakes and rivers to the middle where you'll find more and bigger fish. The lack of a motor means that you'll be able to sit silently as you fish, helping you catch more.
Key Features of a Trailer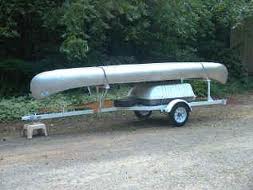 The main difficulty that you'll find once you've designed to include a canoe in your survival plans is how to transport it to your base camp. This is where finding a good canoe trailer will be important. You should look for the following features in a canoe trailer:
V - style design - a V-style frame will allow you to carry your canoe face down meaning that you can store all your equipment inside the canoe and reduce wind resistance. In a situation where you want to save as much fuel as possible, anything that will reduce drag will help you drive more efficiently.
Support beams - basic trailers will require you to strap the canoe down to a simple metal frame, but more expensive models will provide you with padded support beams. This will allow you to carry multiple canoes and kayaks which will be especially useful if you have a larger survival party. 
Lightweight - above all, your trailer needs to be as light as possible so that you don't waste fuel pulling it along. A lightweight trailer will also be easier to carry over rough terrain, so look out for designs made from titanium and aluminium alloys as these will weigh under 100 pounds with the wheels included.
Don't be tempted to go for the cheapest canoe trailer as it will most likely break after a few uses. Expect to pay at least $1500 for mid range models that will hold a couple of canoes securely. If you're really looking to take advantage of the benefits of owning canoes, consider buying a six or eight canoe holder. These will be much heavier but will allow multiple canoes to access the waterways around your base camp at one time.
Return from Canoe Trailer to Survival Bug Out

---
---

Print This Page