Bug Out Camping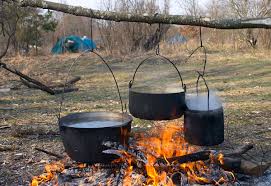 Having some bug out camping gear ready to pick up at a moment's notice will be a great way to prepare against any worst case scenario. When a TEOTWAWKI event arrives, you can't be entirely sure where you're going to be and whether it will be safe to remain in your own home. Having some basic camping gear ready means that you can get out of town quickly without having to worry about where to sleep and how to keep yourself warm, dry and safe.
Camping Essentials
When many people go camping, they'll take along enough luxuries to turn the trip into a mini vacation such as books, pop up chairs and camping stoves. However, in a survival situation, you only want to take the bare essentials to make your bug out camping pack as light as possible. You must have the following items in your bug out camping gear, anything else is a luxury:
Pop up tent - as this will form the center of your temporary camp, you need to spend some time and effort researching the best designs and makes for your needs. The tent needs to be easy to assemble, and many modern designs have collapsible metal frames that allow for better storage. It also needs to have enough room for everyone in your party, but if you're traveling with more than four people, consider buying two separate tents as the total area will be larger than one huge tent.
Compressed sleeping bags - sleeping bags can also double up as wind breakers and heavy coats if the apocalyptic event comes during a cold time of year. Compressed sleeping bags are made out of a special material that doesn't trap any air, meaning that you can fold the whole thing down to the size of a football. This makes them ideal for your bug out camping kit as space will be at a premium.
Poncho - some people recommend taking blankets for warmth, but a poncho offers the double advantage of being water proof as well as warm. Be sure to buy a belt to keep the sides secure so that you can wear it while setting up the rest of the camp.
Lantern - your natural light source will be the fire that you use for cooking, but if you're having to leave during the hours of darkness, a lantern will help you find the best camping spot. If you can afford it, you should buy one that charges on solar power during the day, but a kerosene lantern will also do, bearing in mind that you'll have to bring spare gas.
Emergency high calorie rations - when you're packing food, you need to think about space, cooking time and durability. Canned food is inefficient in terms of a weight to calorie ratio, and dried goods take a long time to prepare. Emergency rations are ready to eat, will last for months in their original packaging and don't take up a huge amount of room.
Axe - an axe, or a hatchet, will be important to help you cut firewood and branches to make a natural defence while you're sleeping. You can also use it as a visual threat against any intruders. Make sure that you keep the edge sharp ahead of time as you won't have time to deal with a blunt blade when you're bugging out.
Many people choose to buy and organize their own bug out camping kit so that they know what they have available to them, but you can find online survival stores that will provide you with a big duffel bag that contains all of the essentials. This will be a more expensive option, but you'll have the piece of mind of knowing that you have everything packed up and ready in one place.
Return from Bug Out Camping to Survival Bug Out
---
---

Print This Page