Bike Cargo Trailer
The versatility of a bike cargo trailer allows users to haul just about anything behind a bicycle, from small children to pets to survival items needed when a disaster demands that you "bug out" of your area. Most trailers designed for use with bicycles attach to the back of the bike via a hitch and provide two-wheeled stability along with weatherproof covering, interior pockets, and mesh windows for air flow when necessary.

Although one-wheeled bike trailers are easier to maneuver, they are not capable of carrying as much weight as two-wheeled trailers.
Croozer Designs Cargo Trunk Bicycle Trailer
Sturdily constructed of steel and thick plastic flooring that provides a secure foundation for up to 66 pounds of cargo, the Croozer bike cargo trailer also provides a handcart function for times when using a bicycle is impractical.

Features of the Croozer bike trailer include:

Secure drawbar/hitch attachment for most bicycle rear axles

Assembly requires no tools

Velcro rain cover

Built in reflectors

Folds up for easy storage

Platform specifications are 30.5 inches by 19.5 inches by 13.5 inches

Weighs a little over 11 pounds

The Croozer also offers a limited lifetime warranty; hitch and fabric items have a one-year warranty beginning on purchase date. Tires and wheels are not included in the warranty
All Croozer Cargo & Dog Trailers are 10% to 20% off!
Aosom Bicycle Bike Cargo Trailer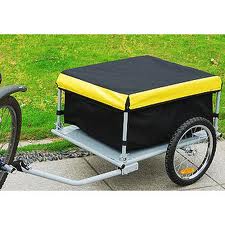 Larger than the Croozer trailer and capable of carrying nearly 180 pounds, the Aosom bike trailer also hitches to motorcycles, making it more versatile when considering a bike trailer for survival purposes.
Product features consist of:
Free bicycle hitch provided with each purchase

Weighs 35 pounds

Sturdy, rugged steel frame protected with a washable cover

Size specifications are 29.5-inches long, 24-inches wide, with a height of 14 inches

When drawbar is attached, the length of this trailer is 54 inches

The Aosom bike trailer can hold a lot of survival equipment such as food, camping equipment and first aid items. It would make a useful and reliable accessory when using a bike or motorcycle as a bug out vehicle.

Weber Monoporter Bike Cargo Trailer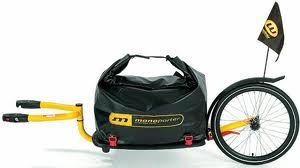 The Weber Monoporter offers several advantages to other trailers, such as its easy to handle style, its ability to fold flat for quick storage and a unique hitch that locks the bicycle to the trailer. In addition, the Weber bike trailer also provides:

A dependable three-inch suspension

Thick plastic flatbed

Aluminum, tubular frame and fender

Feet are removable when you are not on your bike to enhance stability

Two snap-on straps to secure loads

A Schwalbe 20 inch by 1.5 inch Marathon tire

Overall length of 60 inches (cargo area length of 23.2 inches)

Weighs only 12 and a half pounds

Carrying capacity up to 55 pounds
Free Shipping on Orders of $99!

Extrawheel Voyager Bike Trailer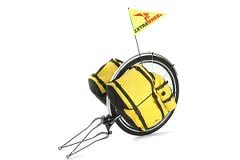 Although a single wheel trailer, it balances cargo by propping loads on either side of the wheel, allowing for tighter maneuvering on curvy, obstruction-filled pathways. In addition, the wheel remains firmly grounded no matter how bumpy the terrain gets due to loads sitting under the wheel axle at the gravity's center. Voyager does suggest that heavier cargo should be placed near the bottom of the bike trailer for more secure traveling.

More features of the Extrawheel include:

Users can use different types of front wheels on their bike trailer

Flag, fender, and choice of Extrawheel quick release or Extrawheel nuts

Weighs only 8.6 pounds and commands an overall length of 52 inches

Carrying capacity is 66 pounds

Electric Powered Bike Trailer by Ridekick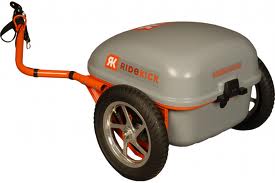 For help with getting up those hills while carrying cargo, the Ridekick provides a boost of electricity with a bike cargo trailer capable of toting 100 pounds. Even the steepest hills can be conquered by assistance from a 500-watt motor that pushes your bicycle up to 19 miles per hour.
The motorized trailer will take you about 15 miles before batteries need recharged, depending on the weight of the load and the rider, condition of the terrain and whether tire pressures of the trailer and bike's tires are at optimal levels.
With Two Different Warranties!
Remember in the event of a bug out, where you might appreciate the motorized trailer assist, a small solar panel, might be enough to recharge once you are no longer near power. Of course, the Ridekick doesn't provide a lot of cargo room, so you'll have to decide which is more important, a power boost or a few more items for survival.
Return from Bike Cargo Trailer to Survival Bug Out

---
---

Print This Page