Best Survival Knife
Qualities of the best survival knife include durability, versatility, convenience and the ability to accommodate any of your survival needs. Survival knife blades are made of different grades of steel, such as standard 440 steel series or the ATS-34 and D2 grades. Currently, the best type of stainless steel used to mold knife blades is the CPM S30V, a corrosion resistant, sintered and martensitic steel that, although expensive, provides one of the sharpest, toughest survival knives available.

Carbon steel is another type of blade material used to make survival knives. As an alloy, steel is formed when large amounts of iron and lesser amounts of carbon are forged together. However, by increasing carbon levels, the strength and density of steel is enhanced as well as the ability of the blade to resist dulling.

Additionally, the best survival knife will be quick and easy to sharpen. Carbon steel blades, being a bit softer than stainless steel blades, can be quickly sharpened but do require extra care to prevent rust.

Uses for Survival Knives

When existing in survival mode, your survival knife should be able to successfully provide three things--defense, cutting wood, foliage and any other materials and starting a fire. With a survival knife, you can cut or whittle wood for the fire and then strike the knife against a rock or flint to generate sparks. Survival knives also skin dead animals, contribute to making other weapons, help to make shelters and serve to ward of potentially dangerous people by simply showing them you have a knife.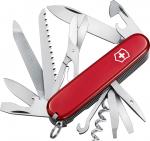 Categories of Survival Knives

Every bug out bag or bug out vehicle should contain at least one of three different kinds of survival knives--folding blade, fixed blade and multi-tool. A fixed blade knife is considered the best survival knife due to its reputation for being extremely durable and quickly accessible.

However, some people prefer folding survival knives because they are often more lightweight and easier to carry because of their compact structure. Folding knives are equipped with mechanisms that keep them securely locked in place when open. To close a folding knife, you just push a small button with your thumb that is located on the side of the knife.

Multi-tool survival knives, or "Swiss Army knives" not only have several, differently sized blades but also provide other tools such as a can opener, mini screwdriver, tweezers, scissors and even a fish scaler. Some of these multi-tool survival knives are quite large and expensive, containing hundreds of tools designed for survival purposes.

Best Survival Knife Brands

German Bull makes the Genuine Deer Stag Whittler Pocket Knife offering a five-inch long fixed or folded large whittling blade constructed of polished stainless steel. Tangs are stamped with "Germany Stainless Handmade" and the German Bull Logo while the handles contain nickel-silver German Bull Inlay Shield with genuine Deer Stag. Priced at $40, this German Bull survival knife remains popular among survivalists due to the consistently expert craftmanship of the German Bull brand.

Pocket knives are handy, easy to carry and provide assistance in almost any kind of survival situation. The Case XX Friends of Coal Black Delrin Trapper 1/500 pocket knife is unique because only 500 have been created by special order. The fixed or folded blade is four and 1/8 inches long and is made from Tru-Sharp surgical stainless steel. It comes in a protective black velvet box and makes a great gift for any survival enthusiast.

Another excellent survival knife is the Case XX Yellowhorse Mountain Elk Elephant Toe Pocket Knife, handcrafted by Brian Yellowhorse, a Navajo artist and knife maker. Yellowhorse created only one of these knives, which automatically makes it a collector's item of the highest quality.

Remember that selecting the best survival knife will greatly increase your chances of surviving in the wilds as well as surviving all types of urban disaster scenarios.

Return from Best Survival Knife to Survival Bug Out

---
---

Print This Page