Best Honda Generator
Few people will argue that the best Honda generator is any Honda generator, but one can debate which specific model or type is best for a specific purpose. One person might prefer a diesel engine type for a job site and a quieter, more environmentally friendly solar model at home while another might like gas-powered machines for every purpose.
Regardless of opinion and purpose, generator users are likely to recommend and purchase a Honda before anything else, at least according to consumer reviews, and for good reasons-durability, reliability and affordability.

Purpose
A Honda generator, like every other generator, fits into different categories, with purpose being the most important because purchasing this device without first knowing its intended use would not be in your best interest. You have to know the amount of power you need so you can avoid buying a generator with too little or too much wattage, the latter of which will also cost you more money.

For instance, if you want a generator to use with an RV, then the best Honda generator is the EU series, specifically the super quiet models, since you want to be considerate of your fellow RVers but so you can hear the sounds of nature as opposed to the grinding and garbling of industrial equipment.

This same series, along with the EM models, are also ideal for home use because they work with a transfer switch, allowing you to easily restore power immediately.

Since work site demands tend to create the highest variety of generators, it is easy to find an affordable, reliable model to get the job done but Honda's EB series, which meets OSHA requirements, is still among the best on the market. Starting at 3,000 watts, a run time of 16 hours and a price of roughly $1500, it is easy to see why this is the best Honda generator for the job.
Hours per Gallon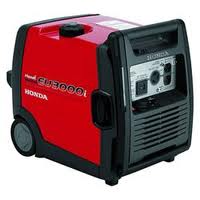 Purchasing a generator is not much different than purchasing a car, boat or any other toy with an engine because you always want the same thing-good gas mileage. Honda, taking the consumer into consideration, decided to create a few series that are fuel-efficient and offer long run times so you can get the job done or simply enjoy the day knowing your food will not rot because your fridge has the power it needs to keep running.

Although Honda did do their best to add this feature to most of their generator lines, the best Honda generator for fuel efficiency are the Inverter models with an Eco-Throttle. This technology, very much like a car engine, changes the speed of the engine automatically so that it provides just enough power instead of wasting energy and fuel. The EU series, which features this convenient design, offers up to 20 hours on just one tank of gas, something no modern car can accomplish.

Price
Unless your pockets run deep, you probably care about the price, or at least the quality of the product compared to the dollar value. Honda generators, because of their great reputation, reliability, durability, lightweight, quiet design and performance, tend to be affordable but still on the higher end of available products on the market.
However, Honda once again considered the consumer and has recreational and home generators in the highly recommended EU series that start at little more than $1100 and $1500 in the EB series for use on the job.

The specifics on each model in each product line do vary and offer flexible options to meet your individual needs so when it comes to finding the best Honda generator, it really depends on what is best for you and how this device will fulfill your purpose.

Return from Best Honda Generator to Survival Equipment
---
---

Print This Page